A French Experience
Arthur and Mandy are delighted to collaborate with young chef Briony Bradford, who heads Jones Winery Restaurant.
Mandy studied at Le Cordon Bleu in Paris, and in Briony has found someone who shares her same passion, respect for tradition and dedication to the proper way of doing things.
Briony's expertise in French technique has been developed by working with Michelin-starred chefs Claude Bosi at Hibiscus and Andre Garret at Galvin at Windows in London, and with Paul Cooper at Bishop Sessa, Ross Lusted at The Bridge Room, Grant King at Gastro Park and Brent Savage at The Bentley Restaurant and Bar in Sydney.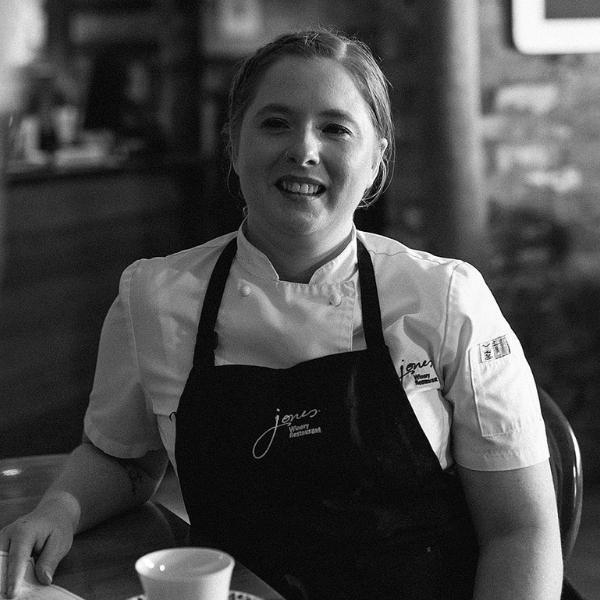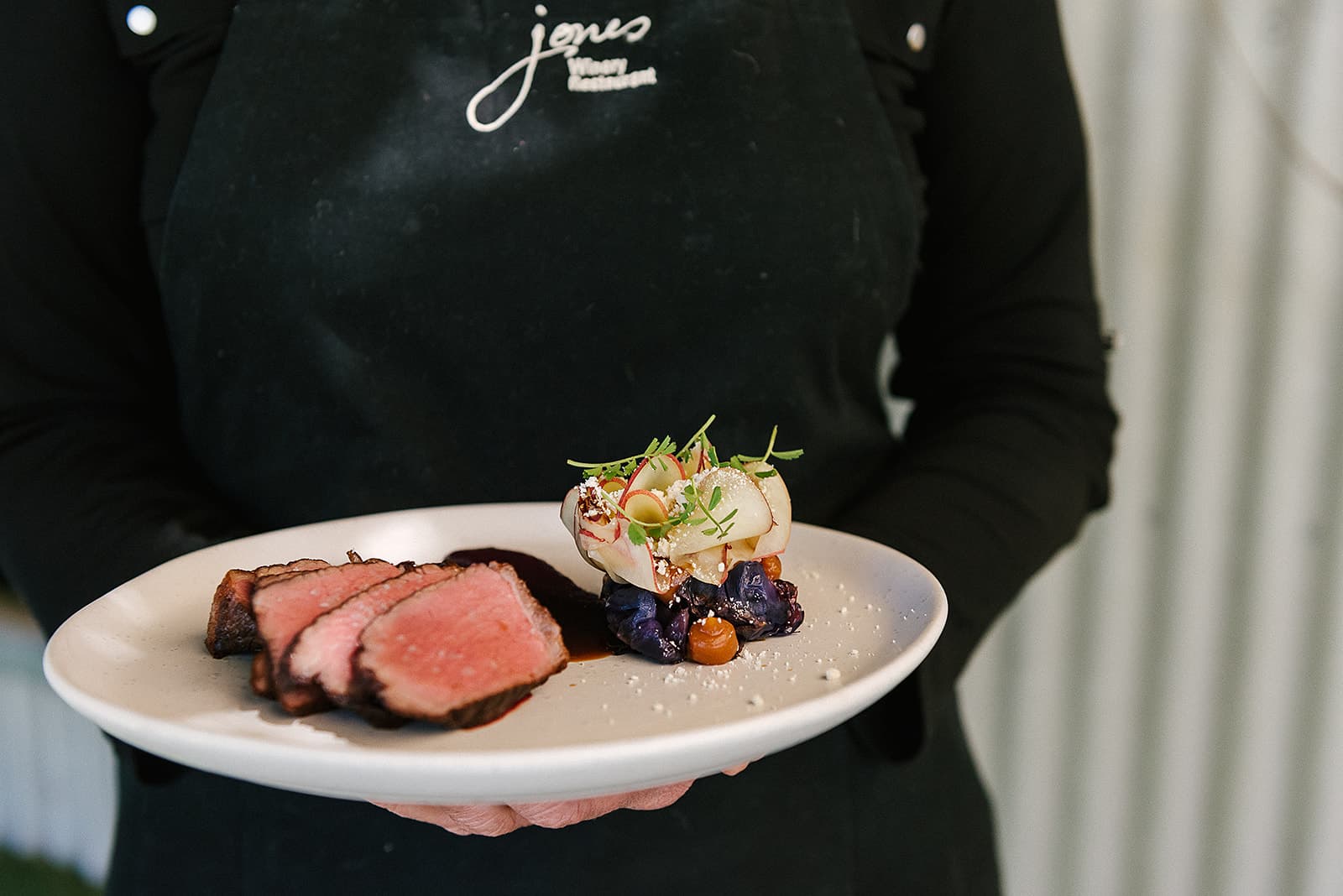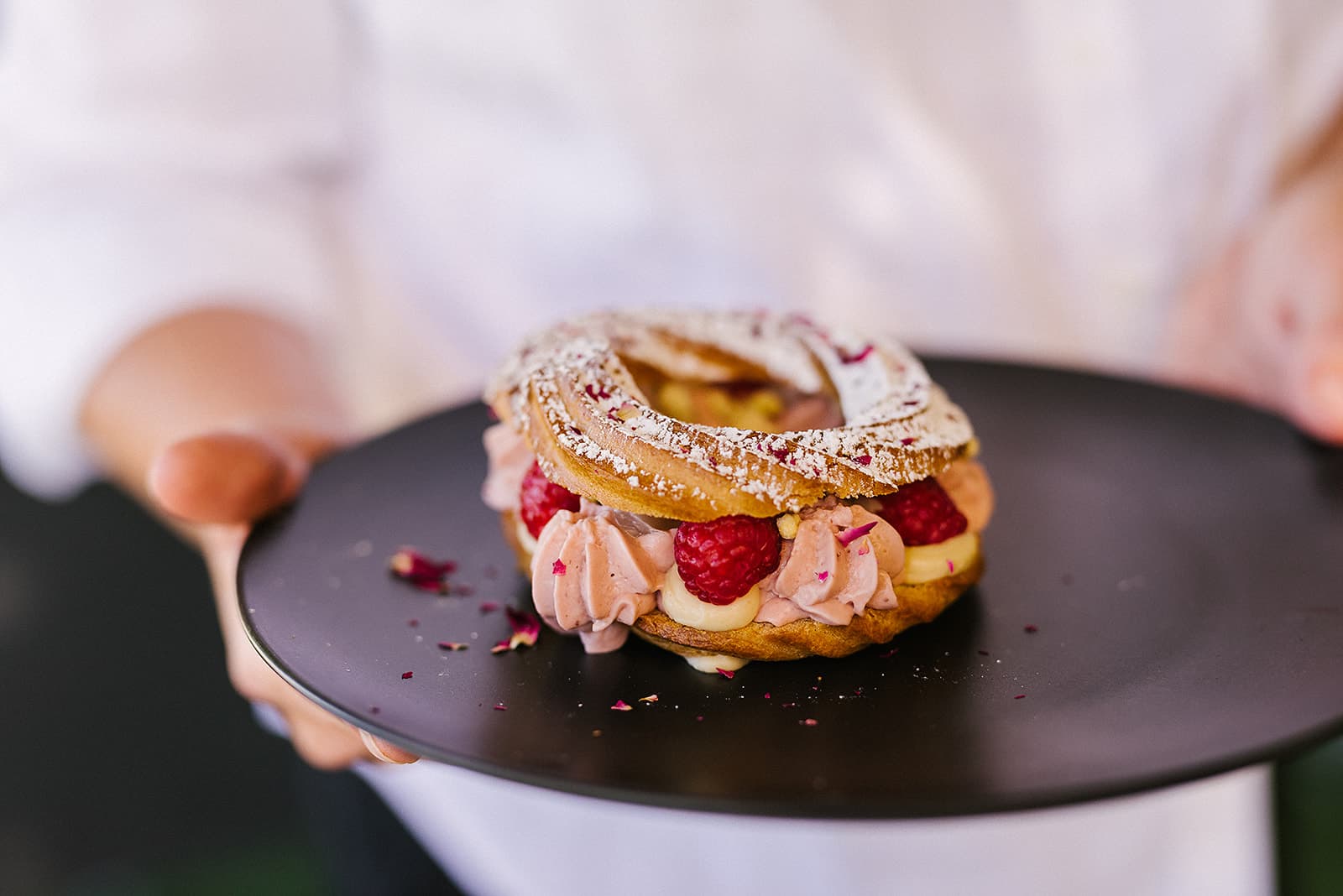 French Cuisine in Rutherglen
Open for lunch from Thursday to Sunday. On the third Friday of each month we open for a 5 course, themed degustation dinner. 
In Rutherglen, Briony and her team have access to a wealth of local ingredients, and collaborative relationships with the farmers who produce them. The seasonal menu may include Murray Grey beef, bred on the property; local pork, trout, duck or goat; and a rainbow of local vegetables, including some from the kitchen garden.
Briony is equally inspired by gastronomic traditions, native ingredients and the sustainability ethos of 'waste nothing'. Dishes are expertly executed, with all components made from scratch. Mandy applies the art and science of food pairing to ensure that there is an appropriate wine to match each one.
The Jones front of house team deliver well-informed, gracious hospitality; they delight in seeing guests enjoying themselves. No matter whether you choose to dine from the a la carte menu, partake in a pique-nique or order a gourmet hamper to take away, the same attention to detail is applied, to ensure an excellent experience.
If the restaurant is booked out, have a look at our other dining options below.
If you're visiting us and feeling peckish, you can now enjoy our Picnic Area Menu. Our Picnic Area is right outside our lovely Gallery area.  Available the days restaurant is open the menu includes delicious dishes like freshly shucked oysters, charcuterie and cheese platter, Croque Monsieur, and marinated Gooramadda Olives. Or be really indulgent and try one of Briony's delicious desserts. 
Can be ordered at our cellar door or pre-book your Pique Nique here.
Walking or Bike Riding and dining at a regional pace!
Start with wine tasting, a charcuterie plate and sparkling wine at Anderson Winery. Then amble to us to enjoy your main meal, including tasting and a glass of wine. You then receive one of Briony's fabulous dessert's and a Rutherglen Muscat to take away. We suggest you might like to amble up to the wine bottle to take a souvenir photograph.
Book your Gourmet Amble here.
Jones' Hampers include all the provisions necessary for a quiet night in, or a Rutherglen day trip. Our team prepares each ingredient with care, with dishes drawn from our restaurant menu and our favourite gourmet traditions; dietary requirements can be accommodated.
Of course, a bottle of Jones wine is the perfect complement, and we can recommend some picturesque spots to enjoy it.
Book your Jones' Hamper here.