About
Jones Winery,
Vineyard,
and Restaurant
Making Wine Since
1860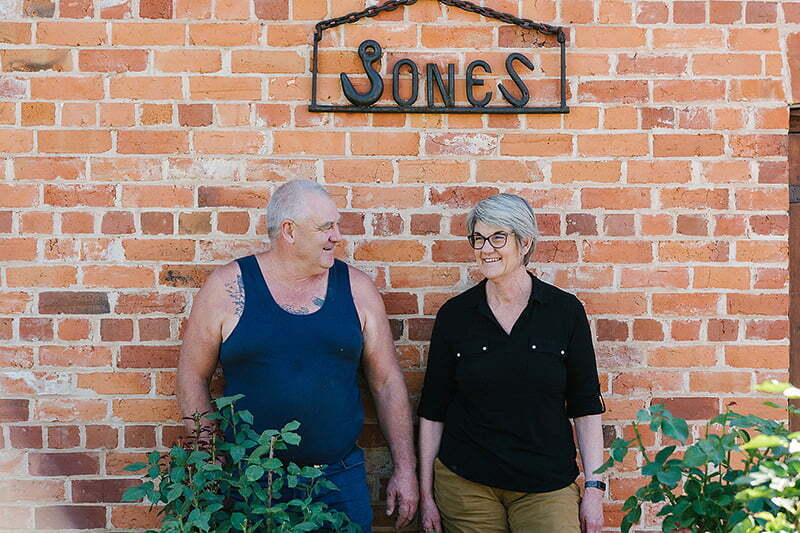 Mandy and Arthur Jones are the current custodians of one of the oldest and smallest wineries in Rutherglen.
Vines were first established on this site in 1860, and have been passed down through generations of grape growers and winemakers.
Brother and sister Mandy and Arthur took the reins from their uncle, Les Jones, in 1998, and set about making their own mark on the family business.
Arthur's firm grounding in agriculture, as well as his mechanical expertise, has seen modernisation of the business operations, including a move to sustainable and renewable practices on the farm.
Mandy's expertise in science and winemaking crafts the estate-grown fruit into fine wines, which capture the power and beauty of Rutherglen.
Flagship wines include the old vine LJ Shiraz, elegantly balanced Marsanne Roussanne blend, and classic Rutherglen Muscat. Mandy has created a unique French-style aperitif in honour of her mother, Correll, to be served in spritzes and cocktails.
Young Ben Jones has now released three vintages of Jones' newest label, J6. With the sixth generation now making wine, there are hopes that the Jones tradition may live on.
The Gastronomic Influence
Gastronomy is the study of the relationship between culture and food.
The Jones Winery, Vineyard and Restaurant gastronomic experience showcases the traditions of grape growing, winemaking and cooking that have been kept alive for six generations.