Visiting
Jones Winery,
Vineyard,
and Restaurant
We are delighted to share our 'little brick barn' cellar door, our restaurant and grounds with visitors.
We offer a range of wine tasting experiences, including a personalised tasting of the full range, food and wine pairings and a sweet tribute to Rutherglen Muscat. Our knowledgeable staff will guide you through the wines, share family stories and give you a glimpse into the work of the vigneron and winemaker.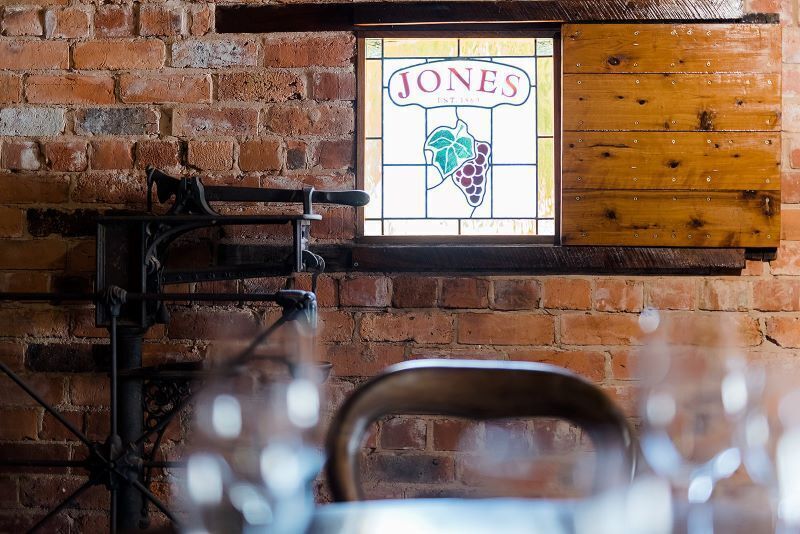 Jones Winery Restaurant, likewise, offers many ways to experience our French country style cuisine, from restaurant dining to pique-niques and gourmet hampers to take away.
Head Chef, Briony Bradford's expertise in French technique has been developed by working with Michelin-starred chefs Claude Bosi at Hibiscus and Andre Garret at Galvin at Windows in London, and with Paul Cooper at Bishop Sessa, Ross Lusted at The Bridge Room, Grant King at Gastro Park and Brent Savage at The Bentley Restaurant and Bar in Sydney.
Our dining spaces include the cellar door restaurant and vine-covered verandah. Reservations are available for intimate lunches, larger groups and private dining. We encourage you to include a wine tasting when you visit; alternatively, we have suggested a matching wine with each dish on our menu.
Open Thursday to Sunday for lunch, bookings recommended.
We offer a personalised tasting of our estate-grown wines in our heritage cellar door. Wine styles include aromatic whites, premium reds from old vines and carefully aged fortified wines, including regional heroes Rutherglen Muscat and Durif. The full Jones range is available for tasting, hosted by our knowledgeable staff.
Bookings recommended. Tasting fee is refundable on purchase of two bottles or more on the day. Complimentary tasting for Wine Selection members and one guest.
Food  Wine Pairing Experience and Muscat Tribute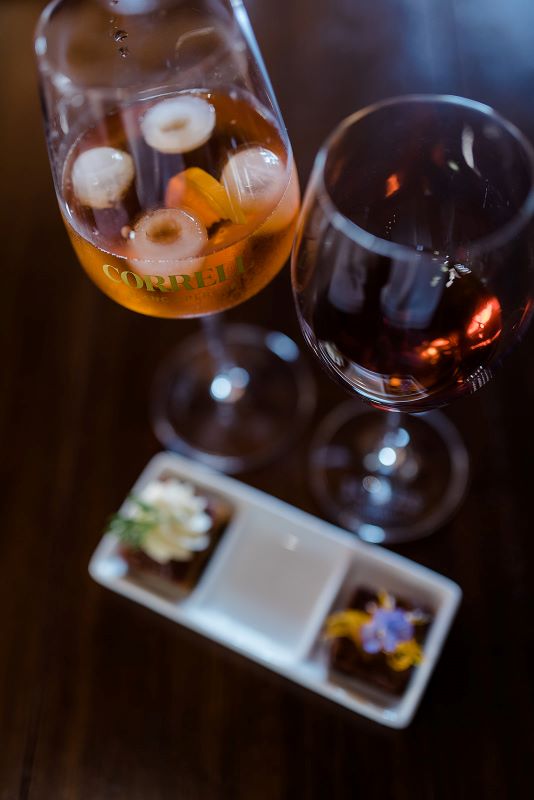 Jones Food and Wine
Pairing Experience
When food and wine are expertly paired, the experience can give you greater insight – and enjoyment – of both.
Our Food and Wine pairing experience matches two canapes to two Jones wines, served in our cellar door by knowledgeable staff, who can demonstrate the art and science of the pairing.
Jones Muscat Tribute
Rutherglen Muscat is recognised as a global treasure. At Jones, we pay it tribute by matching French-inspired dessert canapés to a Classic Muscat and a Muscat cocktail.
A superb tasting experience, or fitting finish to lunch in our restaurant.
Pique-Nique Menu, Hampers
Jones Pique-Nique Menu
A little taste of French style! Enjoy our Pique-Nique Menu in the winery grounds or on the vine-covered patio of the gallery.
Baguettes and salad, charcuterie or cheese make a lovely light lunch – you could even go straight to our handcrafted desserts.
Cellar door tasting fee is included with the Pique-Nique, so that you may select your favourite glass of wine to go with it.
Jones Hampers
Jones' Hampers include all the provisions necessary for a quiet night in, or a Rutherglen day trip.
Our team prepares each ingredient with care, with dishes drawn from our restaurant menu and our favourite gourmet traditions; dietary requirements can be accommodated.
Of course, a bottle of Jones wine is the perfect complement, and we can recommend some picturesque spots to enjoy it.
Available for pickup Thursday to Sunday, 24 hours' notice required.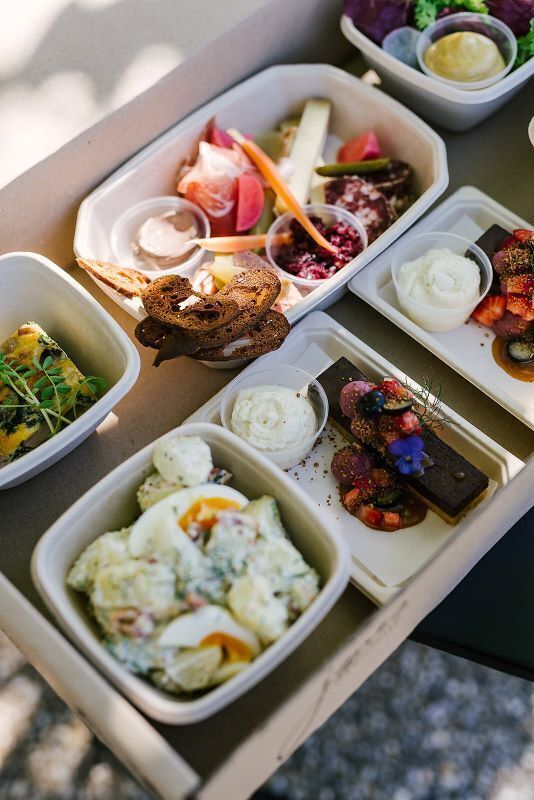 Walking or Bike Riding and dining at a regional pace! The Gourmet Amble proceeds between two boutique Rutherglen wineries – Jones and Andersons – with dining and wine tasting experiences at both ends of your journey. Finish with something sweet and a snap of the iconic wine bottle sculpture.
The 5km walk from the centre of Rutherglen to Andersons and Jones takes approximately 60 minutes – bike hire is available (additional cost).
What's included:
Wine tasting, charcuterie plate and sparkling wine at Anderson Winery
Main meal, including tasting and a glass of wine at Jones Winery Restaurant
Dessert and Rutherglen Muscat to take away. We suggest you might like to amble up to the wine bottle to take a souvenir photograph
Available Thursday to Sunday, bookings required.
The Jones Tiny House offers an opportunity to experience sustainable living, with views of grapevines and gumtrees, and gourmet catering.
The Jones Tiny House is small but surprisingly spacious. Clever design includes a full kitchen, bathroom, seating and dining areas and a queen-size loft bedroom (suits agile couple). The deck offers more space, with vineyard views.
Amenities are powered by the sun and bottled gas, with a back-up battery for night-time. Air-conditioning is available year-round. The composting toilet and waste water removal means your stay will leave no footprint on the surrounding farmland and natural landscape.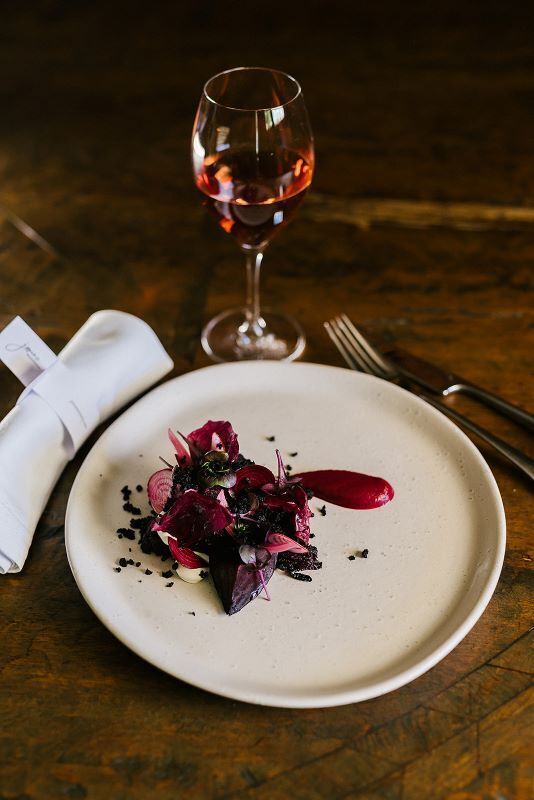 Jones Winery Restaurant offers the ideal setting for your intimate wedding or celebration, amongst grapevines, rose gardens and gumtrees.
Our bespoke catering approach combines expert technique with French country style. Menu options include canapes and cocktails, shared feasts or multi-course degustations.
The Jones range of wines befits special occasions, with a taste of terroir and tradition. We would be honoured to become part of your family history, too.
To find out more information, and to arrange a time to visit us to discuss our packages, please contact us :
Email: bookings@joneswinery.com
Telephone 02 60 328 496